| | |
| --- | --- |
| | More sanding power than iron buffs ! |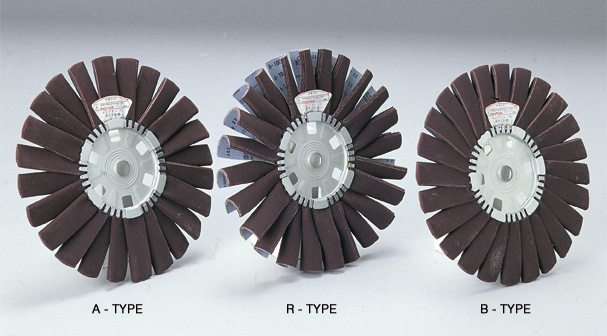 Unique finger-shaped flaps will enhance sanding performance and reduce operation hours.
Excellent effect will be obtained when used Uniflap instead of emery wheels.

< Characteristics of Uniflap >
1.
As to A-type and R-type, section lines are not marked on works as flaps are mounted in zigzag form.
Uniflap will reduce operation hours with its high sanding performance, and operation fatigue is also reduced.
As to B-type, fingers are mounted in a straight line, so It fits well to grooves of works.
2.
Excellent elasticity fits to flat surfaces as well as contoured surfaces.
Especially, R-type has an excellent elasticity due to open round shape of each flap.
3.
Frequent replacement such as abrasive belts oremery wheels (iron buff) is not necessary because Uniflap can be used at the end of service life.
4.
Uniflap can be used, in the same manner as our cloth buffs, dealing with wide works.
5.
Uniflap can endure pressure grinding, safe with automatic grinding machines.

< Surface Roughness >
As an alternative tool to emery buff, Uniflap's polishing marks are more similar to emery buff's than KF Wheel's.
By applying tripoli, The surface roughness becomes finer, and can be used as pre-buffing process.
But the polishing marks of Uniflap (#400) is coarser than the counterpart of emery buff (#250 or #320) when emery buff is applied with tripoli.

< Applications >
For metal surface polishing of stainless steel, aluminum product, and wide range of metal.



*Follow the rotational speed standard of conventional buffing wheels in use.




*Special flanges for Uniflap are needed when use.

< Types of Uniflap >

Type
Grain
Bond
Grit
Size
Standard Size (mm)
O.D.
Center Plate diameter
Arbor Hole diameter
A

R/R


80
100
120
180
240
280
320
400


150


45

200

250


75

300

350


125

350

400


175

| | |
| --- | --- |
| 25.4 | 31.8 |
| 38.1 | 50.8 |
| 76.2 | 101.6 |

*Cloth type : JAU