Wallnet Dust-Suction Sander Set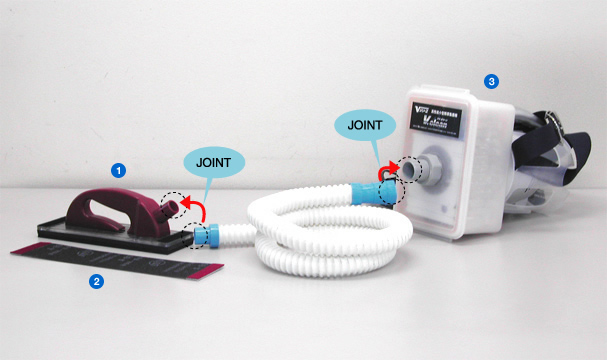 This is a product developed for dust countermeasure for sanding of dried paint putty in carpentry work.

< Characteristics >
*Mesh structure prevents clogging
*Life is 3 times longer than our conventional paper products.
*This set completely solves the issue of dust by collecting more than 90 % of dust.
*Dust protection measures can be reduced, easy cleaning.
*Just 2.4 kgs. Very easy to carry.
*Waist hang & shoulder hang type.

| | |
| --- | --- |
| | Collects Dust Powerfully (more than 90% of dust) |

< Applications >
For sanding of plaster board and joints of ceiling (screen-mesh file)

< Included in this set >
| | |
| --- | --- |
| | Wallnet Dust-Suction Sander - 1 piece |
| | Wallnet C-80 - 1 box (20 sheets) |
| | Wallnet Exclusive Cleaner - 1 piece |

< Cautions >
| | |
| --- | --- |
| * | Every product 1, 2, 3 in this set has its instruction manual. (Enclosed in its package or printed on the outer case) Please read all the instructions before use, and read above "Assembling Method" as you assemble those parts. |
| * | Please be sure to wear safety hat or helmet, safety goggles, dust mask, work gloves, and proper clothes for a work. |
| * | Because of continuous running for a long time, Wallnet Exclusive Cleaner can get heated, and the heat can cause a breakdown. Please be careful about running time. |
| * | Dust-Suction power of Wallnet Exclusive Cleaner becomes low when the paper pack gets full. Please exchange the paper pack periodically. Regarding purchasing paper packs, please see the instructions of Wallnet Exclusive Cleaner |
| * | Wallnet Dust-Suction Sander Set is exclusive for sanding of plaster board and joint of ceiling. Please do not use it for other purposes. |